Esti intr-un squad pe frecventa A ?
Vrei sa vorbesti cu comandantul/squad-ul vecin/inamicul care este pe frecventa B ?
Trebuie sa schimbi frecventa de pe statie de pe A pe B ?
Dupa ce termini de vorbit cu comandantul/squad-ul vecin/inamicul trebuie sa schimbi inapoi pe frecventa A ?
Nu te tine baterie cat trebuie ? Se consuma inainte de a se termina jocul ?
De acum inainte problema aceasta se rezolva in felul urmator:
Cand vrei sa vorbesti cu squad-ul tau pe frecventa A , apesi in partea de SUS a butonului de transmisie PTT si ei te aud.
Cand vrei sa vorbesti cu cu comandantul/squad-ul vecin/inamicul pe frecventa B , apesi in partea de JOS a butonului de transmisie PTT si ei te aud.
In acelasi timp tu poti asculta si pe frecventa A si pe frecventa B
Toate aceastea cu statia radio
BaoFeng UV-82L Two-Way Radio, Dual Band UHF/VHF 136-174/400-520MHz
la pretul de pe site.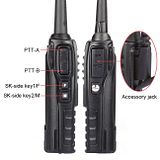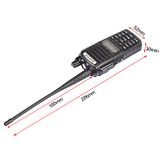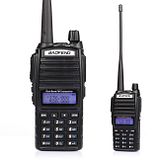 care include si hands-free cu doua butoane de transmisie PTT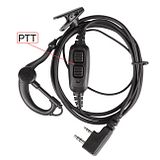 o baterie generoasa de 3000 miliamperi si lanterna.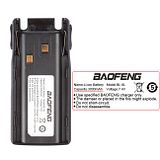 Functions:
1. Dual PTT keys (Top of PTT selects TX (A). Bottom of PTT selects (B))
2. Dua-Band handheld transceiver with display function menu on the display"LCD"
3. A/B band independent operation
4. 128 groups channels storage
5. Incorporates 105 codes"DCS"and 50 privacy codes "CTCSS" programmable
6. CTCSS & DCS Scanning/ CTCSS & DCS Direct input
7. Emergency Alarm
8. Tri-color background light selectable
9. 0~9 grades VOX selectable
10.Display A/B BEEP tone (A tone can be added to the end of Received signal)
11.FM radio(65MHz-108MHz) and 25 stations storage
12.1750Hz Brust
13.Crossband reception/transmission
14.Channel Monitor
15.Battery Saving function"SAVE"
16.Built-in key lock
17.Channel Step: 2.5/5/6.25/10/12.5/25KHz
18.Low Battery Alert
19.ROGER SET
20.Emergency Alert
21.25KHz/12.5KHz Switchable
22.FM Radio (65.0MHz-108.0MHz)
23.Large LCD Display
24.LED Flashlight
25.Hight /Low RF Power Switchable
26.Function"OFFSET"(frequency offset for repeater access)
27.Tone end of transmission
28.Programmable by PC
29.Wide/Narrow Band(25kHz/12.5kHz)
30.Transmitter time-out timer(TOT)
31.High/Low TX power selectable
32.Busy channel lock-out(BCLO)
Specificatii
General Frequency Range: 65-108MHz(FM Receive only),136-174MHZ and 400-520MHZ (TX/RX).
Channel No: 128.
Frequency Stability: ±2.5ppm.
Antenna: High gain DualBand antenna.
Antenna Impedance: 50Ω.
Operating Voltage: DC 7.4V.
Mode of operation : Simple or semi-duplex.
Antenna: SMA -Female.
Earpiece / mic type: Kenwood Plug type.
Dimension(W x H x D): 132 x 60 x 35 mm (not included antenna).
Weight: 238g(including battery, antenna).
Power adapter: Input: AC100-240V, 50-60Hz;Output: DC10V/500mA; Plug Type: US.
Transmitter: Output power: 5W / 1W (Max 5W)
.
Modulation Mode: 16kΦF3E / 11kΦF3E.
Maximum deviation: 5kHz(Wide) / 2.5kHz(Narrow).
Spurious Radiation: 7μW.
Adjacent Ch. power: ≤-65dB(Wide) / ≤-60dB(Narrow).
Pre-emphasis characteristics: 6dB. Current: ≤1.6A(5W).
CTCSS/DCS deviation: 0.5±0.1kHz(Wide) / 0.3±0.1kHz(Narrow).
Intermediation sensitivity: 8-12mv.
Intermediation distortion: ≤10%.
Cutia contine:
1x BAOFENG UV-82L (VHF 136-174Mhz,UHF 400-520Mhz) Two-Way Radio
1x 7.4V Li-ion Battery
1x BAOFENG Original Earpiece with PTT Button
1x 18cm Dual Band Booster Antenna
1x Power Adapter
1x Belt Clip
1x Hand Strap
1x Battery Charger
1x User Manual